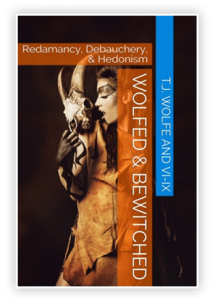 Wolfed & Bewitched: Redamancy, Debauchery, & Hedonism
Poetry created to infiltrate the mind, body, and soul. It provides greater insight into understanding ones' own sexuality. The rawness and realism is intentional, subduing your thoughts time and time again. Mental and intellectual stimulation, collaborate and are interwoven in Wolfed & Bewitched
ISBN-13: 979-8636957034
Labyrinth of the mind
Poetry encompassing life's downfalls, obstacles, and achievements. Inspiring movement, self-love and awareness on the journey to self discovery.
ISBN-13: 979-8637489978
Secrets of the Dark Rose: Epilogue to Unwanted Heart
Newlyweds Caiden and Zoe Westphal are dealt a new sinister hand, loaded with dark secrets from their past. While Caiden fights to keep Zoe in the dark about her secret life, new and old adversaries, hell-bent on destroying them, will challenge their love and faith.
Will the loving duo be able to survive together, or will their past ultimately tear them apart forever?
ISBN 13 (SOFT): 9781490787077
ISBN 13 (HARD): 9781490787084
ISBN 13 (eBook): 9781490787848
---
Unwanted Heart
Caiden, a young financier and real estate investor, reluctantly returns home after two years to aid in the care of her ailing mother. In the midst she is forced to deal with her belligerent sister Jaylon, all while discovering her beloved mother Rose, has secrets of her own that may destroy them all.
An unexpected encounter with her lost love Zoe, forces Caiden to evaluate her innermost feelings for Zoe and cope with her own insecurities of being unwanted. Unwanted Heart is a compelling tale of love and the its many faces.
ISBN 13 (SOFT): 9781490767529
ISBN 13 (HARD): 9781490767543
ISBN 13 (eBook): 9781490767536
---
For book signings, writer's workshops, speaking engagements, and private events send requests to tjwolfe2016@gmail.com
JOIN MY MAILING LIST
Would you like more information about this book? Please fill out the form below so that I can add you to my email distribution list. I thank you in advance for your interest!
For book signings, writer's workshops, speaking engagements, and private events send requests to tjwolfe2016@gmail.com or Infotjwolfe@gmail.com
Where to buy: